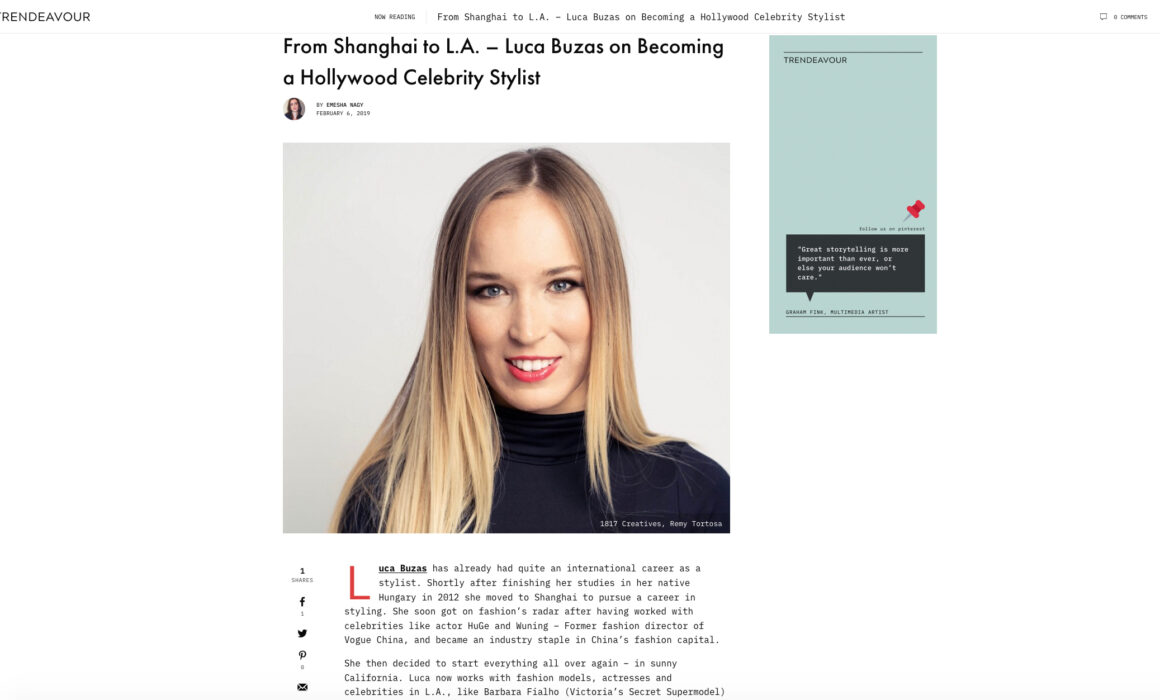 Los Angeles Celebrity Stylist | Trendeavour Interview
As a Los Angeles celebrity stylist, I got interviewed by Trendeavour Online Magazine. Trendeavour was founded in 2017 as an independent media/education company and digital marketing agency. Their mission is to empower creatives and provide motivational content, actionable resources, tools and tips for aspiring creative entrepreneurs to start and build their business. They interview industry experts to give inspiring, invaluable and proven advice they learned throughout their careers.
Let me tell you a little bit about the interview. Trendeavour asked me a couple of questions via email such as, what made me become a fashion stylist, what challenges I faced living in China and how I moved to Los Angeles and started my career there? You can find my answers below:
"I always wanted to move to Los Angeles so it felt right to start this journey. I always knew that there is a huge creative industry in L.A. but I didn't know how I would do at first.
I lived in Shanghai for 5 years and was lucky to travel around Asia but I didn't see myself living there for another 5-10 years.
I had to decide quickly how the future of my career would take shape. With my mind on the US, everything shifted naturally in the direction of Los Angeles as my next destination.
It was great living in Asia for as long as I did and I'm very happy I am able to continue my carrier in the US by taking the lessons I learned in Asia and applying them to the industry here in Hollywood.
Before and after I moved, I connected with a lot of producers, advertising agencies and companies in order to start to work and that networking paid off. "
The full interview can be found here:
From Shanghai to L.A. – Luca Buzas on Becoming a Hollywood Celebrity Stylist
It was a pleasure collaborating with Trendeavour on this interview as a Los Angeles celebrity stylist and hope to create a lasting relationship with them for the future.
I constantly post about fashion styling trends, please visit my Los Angeles celebrity stylist page here: https://www.instagram.com/lucabuzas/
To see more of my work please visit my portfolio page here: https://lucabuzas.com/porfolio-2/