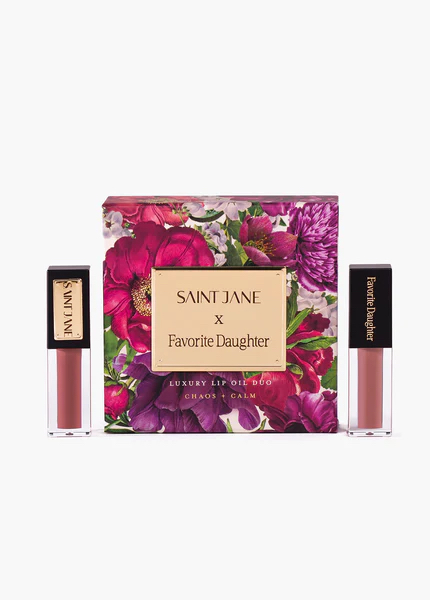 Saint Jane Beauty Collaboration | Celebrity makeup artist
As a celebrity makeup artist , I mostly work on TV commercials,  branded videos, fashion shoots, events and photo shoots around the world. Recently, I got a chance to collaborate with Saint Jane Beauty, the award-winning, luxury skincare made with beautiful florals and modern, science-backed actives to calm skin stress, soothe irritation and detoxify pores.
About Saint Jane Beauty: Inspired by their namesake SAINT JANE, a bold and determined feminist-before-her-time from the 1500s, Jane De Chantal dedicated her life to healing ​people who were shunned by society – the sick, elderly, and unwed mothers. Supporting organizations that foster change, inspire hope and call for equality and inclusivity has been their mission since they launched in January 2019. They're passionate about organizations they believe are changing the world, one person at a time.
I received their Saint Jane x Favorite Daughter Luxury Lip Oil Duo, and it is soon to become my favorite lip look. The all-natural lip oils are a blend of eight simple ingredients–including Vitamin C, Camomile and Aloe–for a nutrient-rich, never-sticky, soft shine. The gift set (with the prettiest packaging) includes our long-wearing Calm & Chaos shades–a subtle, sheer nude and a deeper tone for day-to night shine. Wear alone, layer over another lip color, and apply at bedtime to nourish and hydrate that perfect pout.
The brand's PR agency is Sunny Communications, they do a bit of it all in beauty, lifestyle, entertainment and beyond! Los Angeles based – globally focused agency.
I had an amazing time collaborating with Saint Jane Beauty as a celebrity makeup artist in Los Angeles and hope to create a lasting business relationship with them for the future.
Click here to find the beauty brand official Instagram page: https://www.instagram.com/saintjanebeauty/?hl=en
I constantly post about hair and makeup trends, please visit my celebrity hair and makeup artist in Los Angeles page here: https://www.instagram.com/lucabuzas/
To see more of my work please visit my portfolio page here: https://lucabuzas.com/porfolio-2/